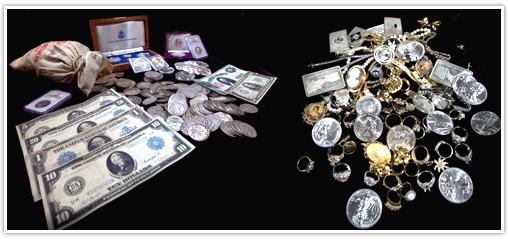 Testimonials
1. I came to Boltinhouse Jewelers with a box of scrap gold, silver, and coins. He paid me more than I expected on the spot. I also had some large coins I was sure weren't solid gold and wouldn't be worth much. I left them with Mr. Boltinhouse so he could go through them. When I came in the next day, I was expecting to collect a hundred more dollars or so for whatever was there of value. To my astonishment, he handed me a check for $14,000! The big coins I thought were gold plated were solid platinum! Their honesty and fairness was unbelievable!
2. We really didn't know what our old jewelry was worth. We went several places and had it all appraised. Then we saw Joe Pinner talking about Boltinhouse Jewelers on WIS TV. We went to Boltinhouse and they paid us far more than anyone else quoted.
3. Mr. Boltinhouse bought our silver flatware, coins, an antique rifle and some very old paper money. We knew about how much it was going to bring, and he paid us more than we thought we could get.
4. I took my scrap gold and silver several places before I visited Boltinhouse Jewelers. Phillip paid us more than anyone else offered. Now I won't go anywhere else!
5. My mom had some old jewelry and silverware and wanted to sell it. She asked me where to take it and I told her Joe Pinner recommends Boltinhouse. We took it to Phillip who bought it all on the spot for considerably more money than we'd hoped.
6. If Joe Pinner recommends something as being good, you can believe it and Boltinhouse Jewelers is no exception!
7. Bill Benton from WIS Radio recommended Boltinhouse to us. We went there, met Phillip Boltinhouse, and sold some silver coins and flatware for more than we were quoted elsewhere.
Nice people.
8. I got an old Rolex and pocket watch from my grandfather's estate years ago. I finally decided to sell them. I was amazed at what high gold prices did for the value!!