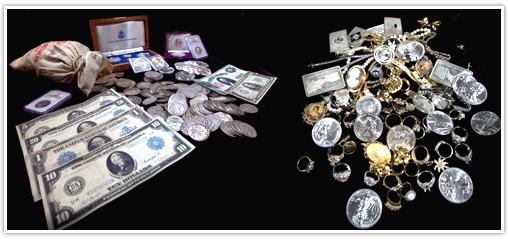 We Buy & We Sell
We Buy: Gold, Silver, Diamond, Rolex Watches and more
Diamond Buying: Not all diamonds are created equally, but all have value. Whether it's a nearly perfect two carat stone, a colored stone, an antique mine-cut, or anything in between, we'll value your diamond accurately and pay some of the highest returns in the market.
Scrap Gold Buying: Whether it's an old high school ring, wedding band, nugget ring, herringbone chain, or triple figaro bracelet, if it's real gold, we buy it! That includes 10K, 14K, 18K, 22K, 24K, dental gold, gold bars, and gold coins. Sell your Gold at Boltinhouse Jewelers!
Scrap Silver Buying: Not using your grandmother's tea set? Turn it into cash at Boltinhouse Jewelers. We buy silver of all kinds including .999 silver, silver coins, silver bars, forged silver, flatware, candelabra's...you name it. If it's silver, we buy it!
Old Paper Money: Confederate bills, Silver Certificates, rare old bills and more.
Antique Firearms: Do you have Civil War era muskets, frontier long-rifles, dueling pistols, World War One or World War Two firearms you'd like to sell? We specialize in antique firearms and buy at fair prices.
Complete Estates: At Boltinhouse Jewelers, we love to buy antiques. From firearms to flatware to art, dishes and jewelry, our estate buying service assures you of some of the highest returns in the market.
We Sell: Jewelry, Gold, Silver, Diamonds and more
Sell Diamonds of every description! GIA and EGL Certified diamonds and diamonds of every shape.
Investment Gold and Silver of all types: .999 bars, American Eagles in gold and silver, junk silver coins too.
Previously enjoyed Rolex Watches: Gold, stainless, gold and stainless, Submariner to Presidential. Please call for inventory.
Sell Estate Jewelry: Antique platinum, gold, silver, diamonds, pocket watches, brooches and more.
GIA and EGL Certified Ideal Cut Diamonds: For the discerning buyer who demands perfection, we offer perfectly cut diamonds. Come see our selection today.
Custom Mountings and Jewelry: Looking for that special engagement ring, bracelet, necklace or other custom piece? Phillip Boltinhouse is a master craftsman and GIA Graduate Gemologist. His custom work is unprecedented in beauty, creativity and design. Let Boltinhouse Jewelers create a one-of -a-kind masterpiece for you.